I had an appointment in Edmonton today, so I stopped at the West Edmonton Lululemon store to spend the gift certificate that Rob (the darling husband, if you didn't already know) gave me for my birthday last month.  Let me start by saying that many people believe giving gift certificates is a cop out.  Those people are nuts!  Gift certificates are delightful; especially gift certificates for Lululemon or Chapters – you can send those my way any old time you feel like it.  I will love your gift, and I will love the experience of shopping for it myself.  It will be one of those gifts that keeps on giving!
But back to my shopping trip:  I spent the gift certificate (well, maybe a wee bit more than the gift certificate, but that's not the point), and I'm so excited about my purchases that I feel like sharing one of them with you.  Not literally, though – my stuff will be staying in my own closet.  I purchased the Run: Stay on Course Pullover in the pretty  "pigment blue" and it is FABULOUS.  In fact, I already took it on a little run when I got home!  It was warm – I wore it with just a tank underneath and I wasn't cold at all.  Granted, it was ridiculously warm out for January (my vehicle showed 12 degrees celsius this afternoon when I left Edmonton, and it was 2 degrees when I got back from my run in Vermilion), but I think it would keep me warm in somewhat colder weather too.  The sleeves have those little built in mittens to keep you fingers warm until you are warmed up enough to bare your hands.  This feature was perfect for tonight, since it was too warm for gloves.  The top is super soft against your skin, but blocks the wind really well at the same time.  The hood has the pony tail slit in the back, too.  I didn't use this particular feature on my run, but I did try it in the store, and I'm confident it will keep the hood perfectly in place.  One of the neatest features is the iPod pocket inside the front pocket; it keeps your iPod from bouncing around so you can listen to "Eye of the Tiger" or whatever inspirational jam you happen to rock out to.  All of the stuff I just mentioned is great, but my very favourite feature is the length of this top.  In one of my previous posts I think I mentioned the extra 15 lbs that has magically appeared on my ass…doesn't matter – the extra long length of the top covers it all up!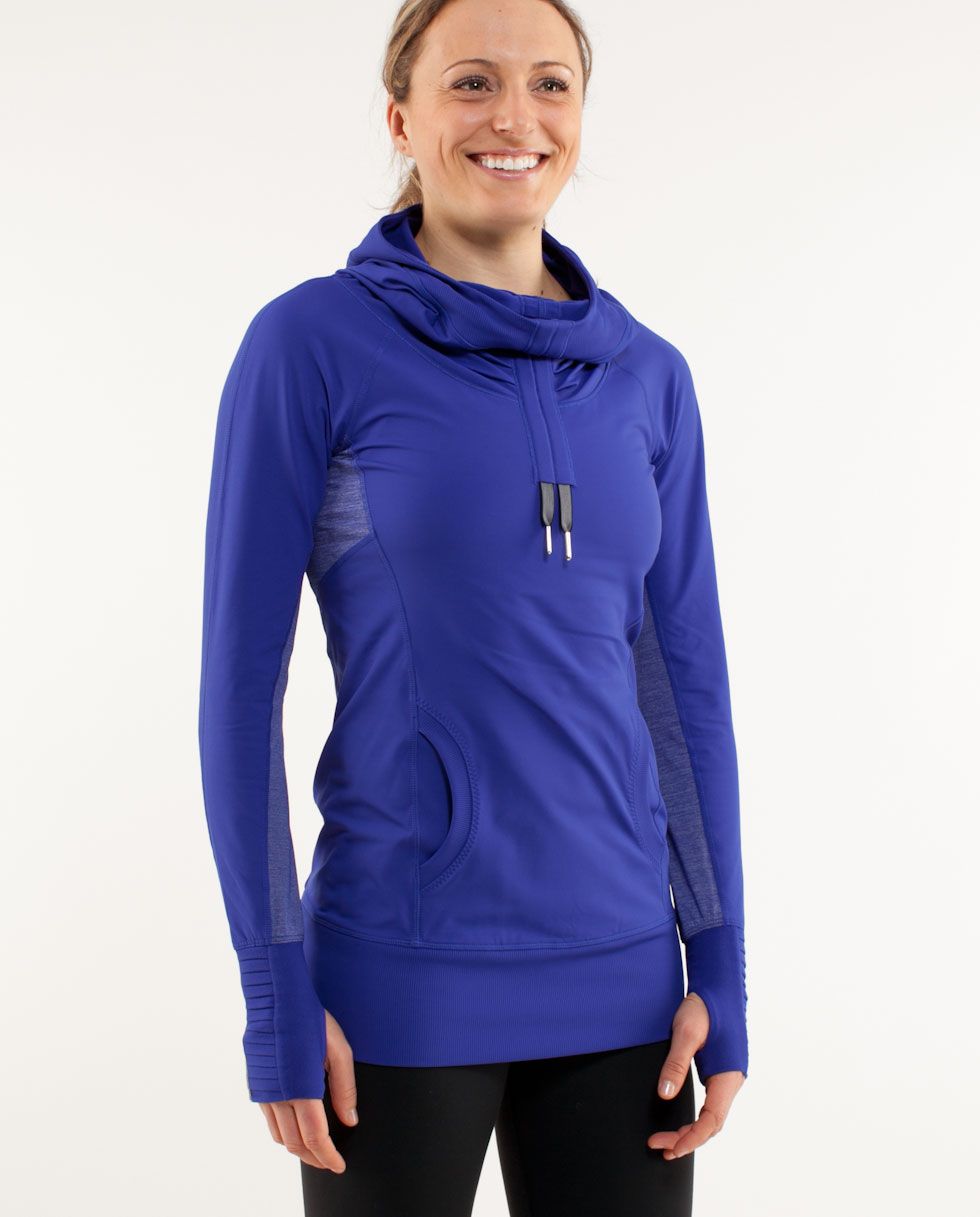 Thanks Lulu for the photo!
As I already said, this top is fabulous.  I'm not sure if the top had anything to do with it or not, but I thought you might also like to know that I got up to 14 minutes today before I had to stop and walk – go me!